Got this today: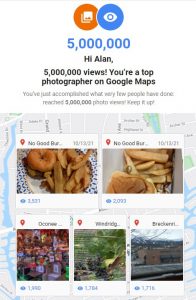 In my role as a Google Guide, I frequently take pictures and occasional videos of the places and restaurants I visit while traveling or staying local.  While this has been a slow year for traveling or even going out, I have been keen to take photos and inspire everyone who will be traveling post-pandemic.
For the most part, I use my Google Pixel phone camera.  It's adequate for quick posting of plates and dishes of food, and can be fairly ubiquitous as everyone lives on their phones these days.
While traveling, I used either my pocket shooter, a  Canon SX720  (Great zoom, quality images) or my Bridge Camera, A Nikon B700 (Goes from Close up to insane zoom without changing lenses, and sends images to phone via Bluetooth app).
On occasion I carry my DSLR, a Nikon D5600, But it requires a larger bag for the additional lenses and accessories.  I have to say it has more controls and post-processing options than the Nikon B700  Bridge camera, especially when adding filters for effect, or doing time lapse photography.  When you are traveling or taking quick shots for a restaurant review, the compact nature of the Google phone or the Canon SX720 make it easier to take and post quality pictures.
Even if you are not a Google guide, I hope my pictorial reviews will inspire you to better photography and good choices with cameras for your photographic adventures!
Thanks for reading my blog, and hoping all your shots are good ones!
-Alan